Swap Left and Right (channels) does not appear in my track dropdown box. Using Audacity 2.0.5. Any ideas?
Thanks,
Danny
Select "Split Stereo to Mono" from the drop-down track menu, (see below), then either move the lower track up , or the upper one down , then select "Make Stereo Track" from the menu in the uppermost track to join the swapped tracks into a stereo pair.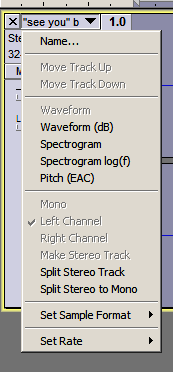 Thanks that works.
I saw refernce to "Swap Left and Right (channels)" being an option and that would be easier. I was also going to see if the function could be done as a batch.
This feature is planned for the 2.0.6 version.
Steve has made a patch for this purpose.
Great!! Is the patch available? I am new to the forum and tried searching, but no luck.