My ID3 tags are jumbled out of order. Is there any way to get the list sorted?
Thanks
Doug
I assume that you mean the Genre list is jumbled - right?
You don't say if you are using 1.3 or 1.3 - in 1.3 going to File > Open Metadata Editor enables you to edit the genre list.
WC
Uh, I'm using 1.2.6a, so maybe the Metadata editor isn't
there, but thanks anyway. Any chance of using the Metadata
editor from 1.3 to edit the genre list on the 1.2 version
and keep using the 1.2 version, or is the 1.3 version fairly
stable and I should just consider using the OS X version 1.3
instead–even though it's still considered beta?
Regards,
Doug
1.3 is fairly stable now - I have used only 1.3.5 since it was released - can't vouch for 1.3.6 as I haven't tried that. But 1.3 is slowly being edged towards a stable 1.4 for release by the developers - so most of the early 1.3 wrinkles have been ironed out by this stage.
WC
Hello from Paris !
Sorry my english remains quite basic ?
Not a reply but just a question !
Audacity 1.2.6 is working perfectly . I am using it mainly to convert audio cassette into mp3 files downloaded on a walkman
My question : Into the "Genre " of the ID3 tags editor I found options : Blues - Classic Rock - Country - Dance …etc !
Would it be possible to add " Language " …in other words …is't possible to edit the ID3 tags editor ?
You are mentioning METADATA as a possible way to edit ID3 tags editor ? What's METADATA
Best regards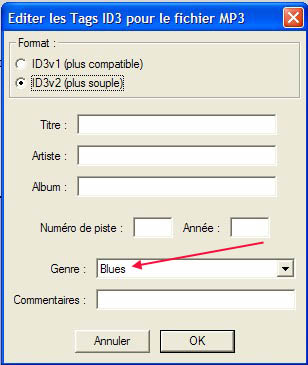 Hi Willaume,
I read you post on the French section of the forum - but my French is not good enough for me to post a reply there

But yes - you can edit the Genre list in whatever language you choose - the genres are just text tags - for example, I added a genre amongst my normal English genres called "Chanson" for singers like Charles Trenet and Francoise Hardy.
But note that you can only do this in 1.3.x and not 1.2.6
WC
To : Waxcylinder
Thank you very much for your message !
You can read french …congratulations !
No answer so far on the french forum !
I will download and install version 1.3
Have a nice day !