Audacity 2.3.3
OS: Windows 10
Hey guys, first post here. I just had a question that might have an easy answer, might not, I don't really know lol.
So, yeah, as the subject said I have the same number missing blocks and orphan blocks. I had saved this project a few days ago, and went back to work on it again today, when these errors kept popping up:


and the log messages: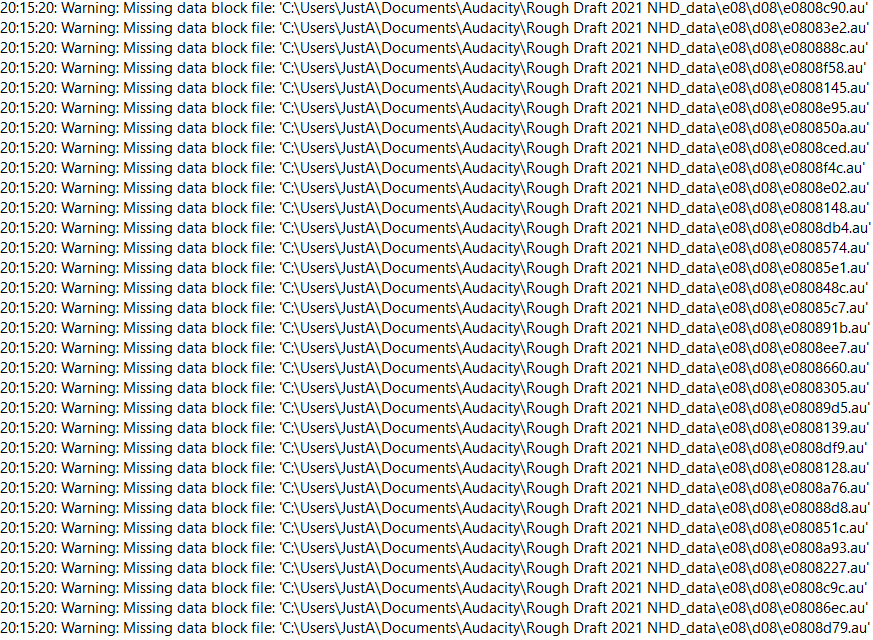 I tried to look through some of the things I could do to recover them on the forum and reddit and other places, but I didn't really find anything as random as what happened here, with seemingly completely random blocks of audio not being recognized by Audacity. I don't think Audacity crashed or really did anything that would have corrupted the file, but I'm still really new to Audacity, so I could really use some help. I think there might be a manual way to listen to the audio block, and then put it back where it might belong possibly, but if there is any faster way that would be great!
It was only about a 10 minute recording, but I did some editing that took a bit, so if it's possible to recover that would be awesome, but if not that wouldn't be the end of the world.
Thanks!