(I'm using Audacity 2.1.2 in Windows 10 Professional)
I've depended on Audacity's equalization curve facility for years, to compensate for the furry windshield muffling that affects all my sound recordings (natural soundscapes), together with compensating for my current recorder model's weakness on the very low frequencies. I did find that Audacity is buggy in that if I create a curve in the EQCurves.xml file, and it gives values for below 20Hz or above 20KHz, it refuses to recognise the curve, dumping me on 'Unnamed' instead. But I have got round that by not using Audacity's UI at all for creating / configuring those particular curves, and specifying them directly in the command chain configuration files, again keeping the Audacity UI right out of it. Like that the curves would be applied to the full and worked perfectly.
Now, however, I've hit upon a really serious, show-stopper Audacity bug concerning EQ curves. I've started trialling a new and somewhat more resistant combination of windshields for my insanely wind-sensitive sound recorder (Sony PCM-D100, for which any single windshield is woefully inadequate), and so had to work out a new EQ curve. Unfortunately for the type of windshield I'm using as the 'inner' I have to create new curve for each recording session on each recorder, so this is huge work for me, but at least I can do it - except that now for some reason Audacity is completely corrupting the curve and so I'm stymied. The corruption is not only in the UI display as shown in the two attached files, but is actually applied when I apply the curve, even when using a command chain set up without involving the UI.
I seriously need a better program, which is non-buggy in handling detailed, high-resolution EQ curves, for at the moment Audacity is a complete dead loss for me now if I am to use more wind-resistant windshield combinations. Is there any prospect of this being fixed at all soon?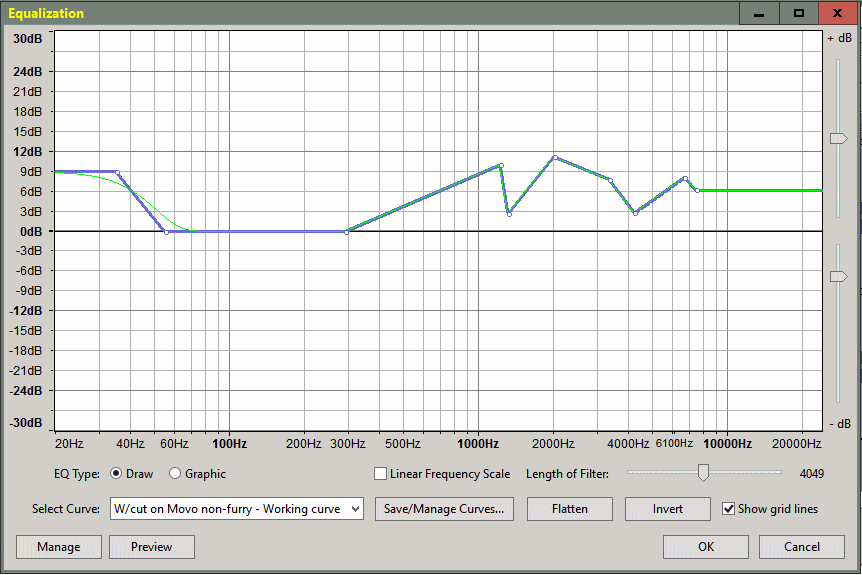 EQCurves.xml (626 Bytes)