wednesday 24 august 2022
4.30 pm
hello audacity help forum,
i am requesting assistance for several problems.
i am using audacity 3.1.3
on a 27" 2015 apple imac using monterey 12.5.1
there is frequent stalling, a rainbow pinwheel appears,
with each edit or motion i attempt on an audacity track.
annoyed, i save and close the file
to avoid the file from crashing and loosing my changes.


when i reopen this file there appears a choice list
of versions from which to reopen, discard, skip, or quit.
meanwhile i noticed in the file's location that there are the two parts:
there is audacity file icon and the temporary part
which disappears when the file is saved and closed.
this indicates the file is actually still open yet disconnecting.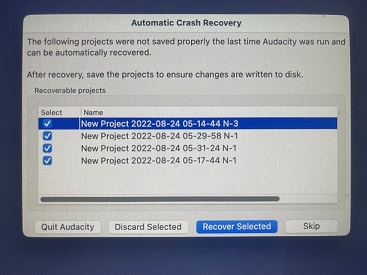 mysteriously there is now a faint graph like gauge in the track's background
which seems to restrict my editing selection options.
i do not know what it is, why and how it got there, nor how to delete it.
possibly it is a result of my inadvertently selecting the envelope tool.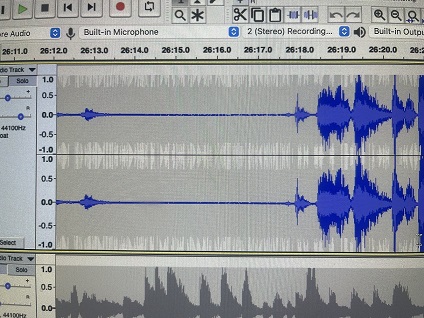 thank you for your assistance. i look forward to your response.
victor holness.[/color]