This is a "version 4" Nyquist plugin, so it requires "Audacity 2.1 alpha" or later.
The basic concept is the same as the "Regular Interval Labels" that has been shipped with Audacity for several years. It creates labels at regular intervals.
Unfortunately Nyquist plugins can still not grey-out controls that are not relevant, so some controls are marked "(if used)" to indicate that they are not always active.
There are two ways that "regular interval" can be placed within a specified space - we can fit as many "Intervals" as will fit, or we can fit as many "labels" as will fit.
To clarify this difference, consider placing labels into a 9 second space, at intervals of 2 seconds:
Fitting 2 second regions into a 9 second selection.
Here I have used "region labels" so that the regions are clearly visible:

Note that there is no room to fit a 5th "2 second interval" into the specified space.
However, if we we using point labels, or short region labels, this might "look" rather odd:



The plug-in has done "the right thing", but clearly there is enough room for one more "label".
Note that in each case, the label interval is exactly the same, but with point labels it "looks" like there is a label missing.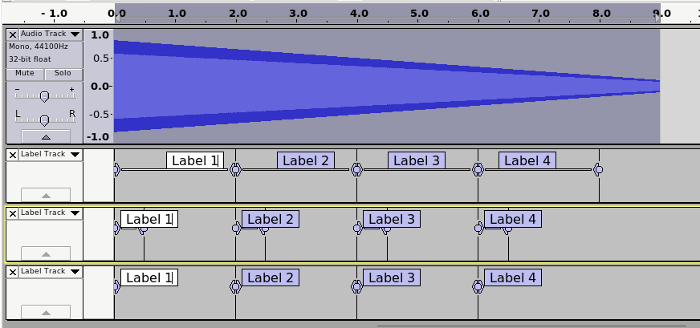 On the other hand, if we place as many "labels" as possible into the available pace, then we end up labelling empty space.
In this example,I have placed as many labels as possible into an 8.1 second space.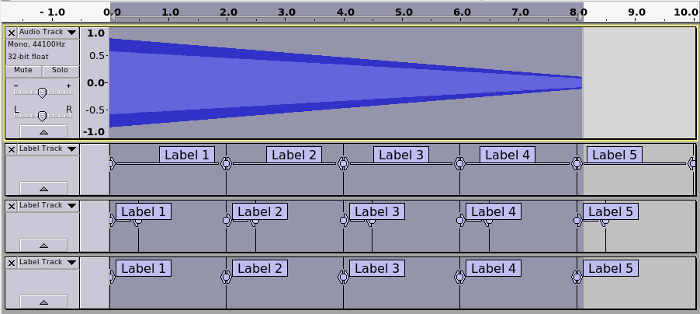 The attached plugin attempts to resolve this by offering "Label placement methods" that include options for:
Exact Interval
(places as many regular "intervals" into the space as will fit.)
and
Exact Interval + Final
(places as many "labels" into the space as will fit.)
Other features in this plugin should be discoverable by playing with it.
Please let me know if you find bugs.
Plug-in updated as per this post: http://forum.audacityteam.org/viewtopic.php?p=260672#p260672
equalabel-16.ny (12.1 KB)