I have no idea what happened but I lost over 3 hours of recording for a podcast I'm working on.
Last night when we finished recording I saved the project and shut down my computer after making sure it was saved. Today, however, I go to open it and start editing and I get the following error…
"Warning - Problem Reading Sequence Tags
Project check read faulty Sequence tags"
It gives me the option to close immediately or "Continue with repairs noted in log, and check for more errors."
The log reads as follows:
log.txt (4.55 KB)
If I click the second option I get this.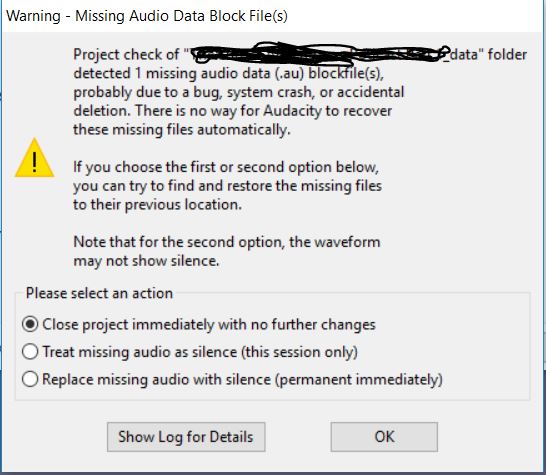 The log for that reads now:
log 2.txt (4.68 KB)
Obviously that last line means that there is a .au file missing from the folder. But all of my other Audacity projects don't have a .au file immediately in their _data folders. What happened and how can I fix it. This is a Dungeons and Dragons podcast so you can't really just re-record the whole thing cause then it wouldn't be natural anymore. Any help would be great. I'm running a program that is supposed to find .au files that were deleted or are hidden so if that finds it before I get a reply I'll mention it. Thanks in advance!
~WendelGOTD