Audacity 2.0.6 on Windows 7 HPE
I am processing some cassette tapes using Audacity to capture the project files and MP3 files (one of each for each entire cassette side; 2 each for both sides of the cassette tape). Everything has progressed beautifully until I came to this one cassette. I can capture the music but I cannot save the project file. I get this error: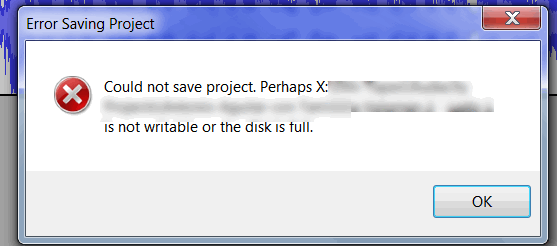 I don't know how to interpret the information given. I blurred out the pathname for privacy. I have placed all the other projects in a folder for Audacity Projects on the X: external HDD. Here is what File Explorer tells me about disk space:


Is it possible that the folders allocated by Windows are too small and that the current project uses all the allocated space and Win 7 is not allocating more? I know that there is adequate free space on the disk drive, but I cannot determine if folder space allocations are being exceeded.
This error occurred after I had processed 13 cassettes. My procedure is to play the tape on the cassette deck which has its mini stereo plug in the Line In port on the PC while I listen to the music and have the sound wave displaying on the PC screen. After the tape finishes playing, I trim the excess track from the front and back (Edit>Select> etc then press Delete). Then I save the project (File>Save_Project_As) and Audacity places .aup file on the drive with the pathname I intend. After saving the Project File in the Audacity Projects folder on the drive, I create the MP3 file (File>Export_audio) and save it in the MP3 Files folder. This has worked successfully for the first 13 cassettes. I have the 14th cassette captured but cannot Save_Project_As without getting this error.
What should I be checking to determine the cause of the problem? What information have I not provided that might be needed to find the cause?
TIA-rh