OS: Windows 10
Audacity: 3.0.2 (files were created under 2.3.3)
The .aup file is in my 'Documents' folder. The folder, with the same file name, is IN the folder as well. I am not sure why Audacity seems to be turning a blind eye to the folder(s). The file was created under 2.x. I installed 3.0.2 to see if perhaps it was somehow able to see the forest for the trees.
The text inside the .aup file lists the project name just like the AUP file AND the _data folder name.
<project xmlns="> http://audacity.sourceforge.net/xml/> " projname="dad_cassette_side_B_lossless_data" version="1.3.0" audacityversion="2.3.3"


Inside is a wav and another folder:


inside of that are more folders, each of which contain many .au files: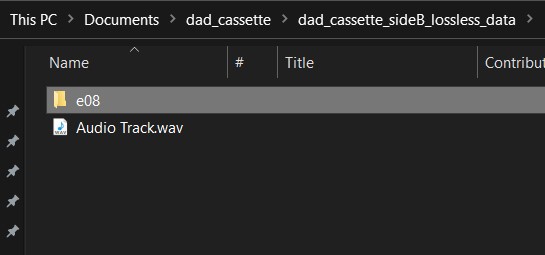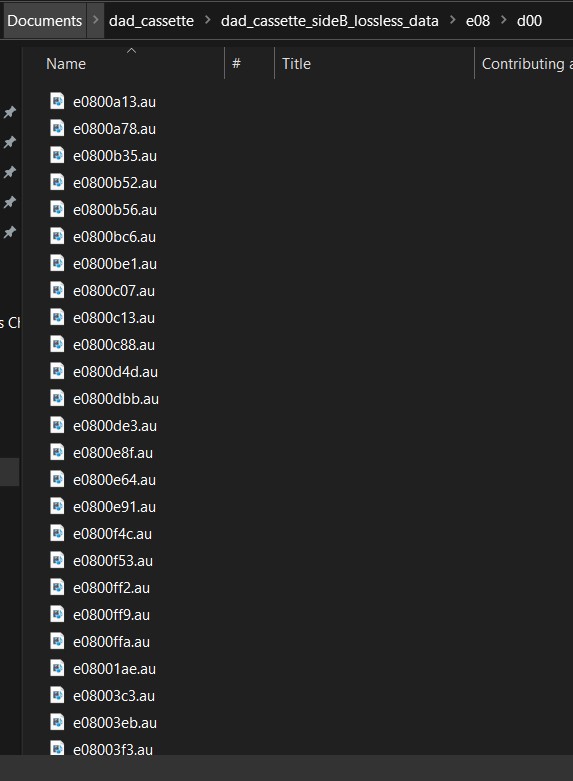 The project file named +NR does open, but seems to be linked to a single .wav inside the data file for some reason. It was made by using "save project as" from the original project file of the same name. The only difference is I applied the noise reduction filter. I saved a copy to preserve the original in the event I didn't like the results or wanted to start over, etc.
I'm pretty sure that there is a way to have Audacity import the raw data, but using Import > Raw wants me to choose a single file.
Thoughts?