Hi,
since Audacity 2.0.6 names/titles of Inputs and Output looks weird: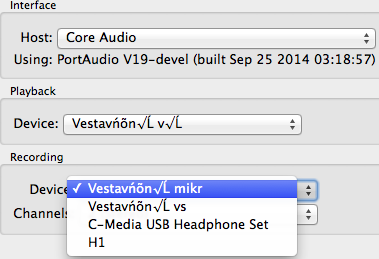 Corrupted playback device name should be "Vestavěný výstup" (in System Preferences->Audio it is called "Interní reproduktory").
Corrupted recording device names should be "Vestavěný mikrofon" and "Vestavěný vstup" (in System Prefs->Audio they're called "Interní mikrofon" and "Linkový vstup").
OS X (10.9.5) localization is "Czech" (Audacity language selected english - but it doesn't affect these names).
In previous version of Audacity (2.0.5) these inputs/outputs was named in english (regardless of OS localization and/or Audacity language selection). It wasn't a problem, still better english than gibberish: