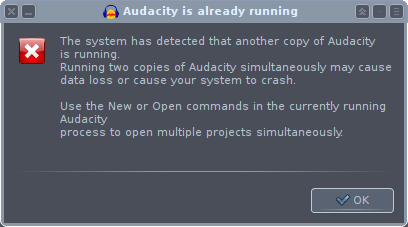 Hi!
After a brutal power-off when Audacity was running I can't run it again, it shows message that another copy is already up. It's not:
pgrep audacity

returns nothing.
I read some other topis on this, but I can't find the Audacity lock file that makes is impossible to run Audacity.
There's nothing in /tmp/ or my custom temp directory I set for Audacity on another filesystem.
Where is the lock file I need to delete?
Audacity version: 2.0.5 Installed from KX Studio repository (marked as 2.0.5-1ubuntu3.2)
System: KX Studio 14.04 64-bit. uname -a: Linux unfa-K52Jc 3.13.0-48-lowlatency #80-Ubuntu SMP PREEMPT Thu Mar 12 11:33:22 UTC 2015 x86_64 x86_64 x86_64 GNU/Linux