Hey all,
I am pretty sure this problem is not specific to Audacity, but I was hoping someone here might be able to point me in the right direction as it really only impacts my ability to use Audacity.



I have a Windows 7 x64 system, and am using a USB headset for my audio, specifically a Logitech G633 along with Audacity 2.1.2. When recording audio via the WASAPI interface, things work but the volume level is extremely low. I've done a number of searches, and so far nothing has helped, but in digging through the various Windows volume control settings, I noticed that even Windows is seeing the volume output very low (in spite of the actual volume output coming from the headset being very loud).
I am attaching an image of the Windows volume output that I was able to grab. On another computer those few pixels of green at the bottom of those bars would be almost the full bar.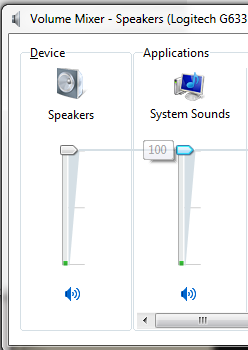 This has been a difficult issue to try and verbalize, but if anyone has any suggestions, I'd be very appreciative.