Hi, I am using Audacity 2.3.2 on a personal computer running Windows 10 Home edition. I have a Behringer UCA202 which I am using to digitise vinyl. It is connected via a stereo RCA phono cable to the speaker outputs on my hi-fi. The UCA202 is recognised OK and I am able to create two-track recordings in Audacity but they are not true stereo - the tracks look identical. The clincher is that there is one song in which the voice should jump from left to right. I hear this effect on headphones when I am monitoring the UCA202, but it is not getting through to the Audacity recording. When I listen back, the effect is not the same. The voice just sounds far away or closer rather than moving sideways. So the problem is at the point the signal enters my laptop, or possibly within Audacity - but I think I've adjusted everything in Audacity to stereo settings.
I have trawled through various pieces of advice on this forum and found that I need to configure my USB device in Windows Sound to 2-channel. But when I go to the Advanced tab for the device, I don't see this option at all (image attached).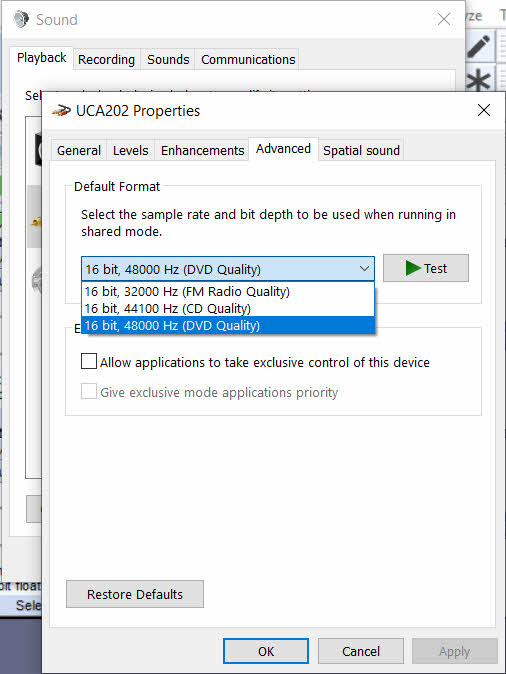 From further reading, I find that Windows 10 is treating the USB device as a microphone, so that stereo is not available. Does anyone know how to overcome this, please?